Impact Report 2022
01 Feb 2023
Globally there is a drive for organisations to behave more sustainably and to have a more positive impact on people and the environment.
Here at Seven, we've been on that journey for a few years and this impact report outlines our approach to sustainability, our progress and how we plan to improve.
At Seven, we aim to do 'good business' - by which we mean ethical, sustainable and responsible business that abides by our country's laws, achieves excellent outcomes for our clients, and thoughtfully balances better outcomes for People, Planet and Profit.
We're excited to share our actions and how the strategies and initiatives we are putting in place will help us become a more sustainable business.
Introducing Seven
Seven is a strategic brand agency based in Auckland that has been delivering award winning work since 1997. Seven strives to do great work with good people while we do no harm, honouring our belief that we are dependent and responsible for each other today and for tomorrow. Our decisions are made with our people, our community and the environment in mind. To that end we are committed to ensuring we do the right thing by each other and by the world we live in.
INTRODUCTION TO SEVEN'S SUSTAINABILITY COMMITMENT
Seven is firmly committed to ensuring we do the right thing by the planet and our community. We recognise that all of our team have an important role to play in achieving this objective. To follow is an outline of some initiatives, goals, policies and practices to support our efforts.
PHILANTHROPY
We have a formal donation commitment of 2.5% of our profits. Our employees get to vote on which organisation we donate to. We also match individual employees' charitable donations up to a maximum of NZ$2,500 per annum.
We provide pro bono services and reduced rates to community groups and to charitable organisations. Organisations we have partnered with:
• Design Assembly
• Designers Institute of New Zealand
• Eisdell Moore Centre
• E B Firth Charitable Trust
• Gandhi Nivas
• Ronald McDonald House
• The Arts Foundation
• The Hearing House
• The New Zealand Book Awards Trust
• The New Zealand Publishers Association
• Youth in Transition
• Quiet Sky Waitematā
B CORP
Certified B Corporations are businesses that meet the highest standards of verified social and environmental performance, public transparency, and legal accountability to balance profit and purpose. B Corps are accelerating a global culture shift to redefine success in business and build a more inclusive and sustainable economy.
Seven is going through B Corp assessment process which enabled us to put some rigor and discipline around how we reduce our impact and increase our influence for good. Between February 2021 and February 2023 we have been identifying where we can improve when it comes to our employees, our clients, our community and the environment. We are now in the process of being verified before going through a validation process which may take 6 months before we can be certified as a B Corp.
For more information about B Corp visit: https://bcorporation.net/about-b-corps
TOITŪ
As part of our sustainability strategy we have taken the steps to determine what our carbon footprint is through the Toitū assessment. The Toitū carbon assessment makes the science of understanding the impact of our carbon footprint accessible. It helps us understand which parts of our operations have the highest impacts, compare results over time, and benchmark against other organisations.
We have set an annual 5% reduction target to be measured and reported in June of each year.
The results for FY22 were 2.722 kgCO2e$1k. This was an increase from 2021 due to a return to the office following COVID and increased travel.
On 16th of June 2022 Seven offset their carbon emissions through Toitū by purchasing low emission cook stoves and 5.5 carbon credits were cancelled.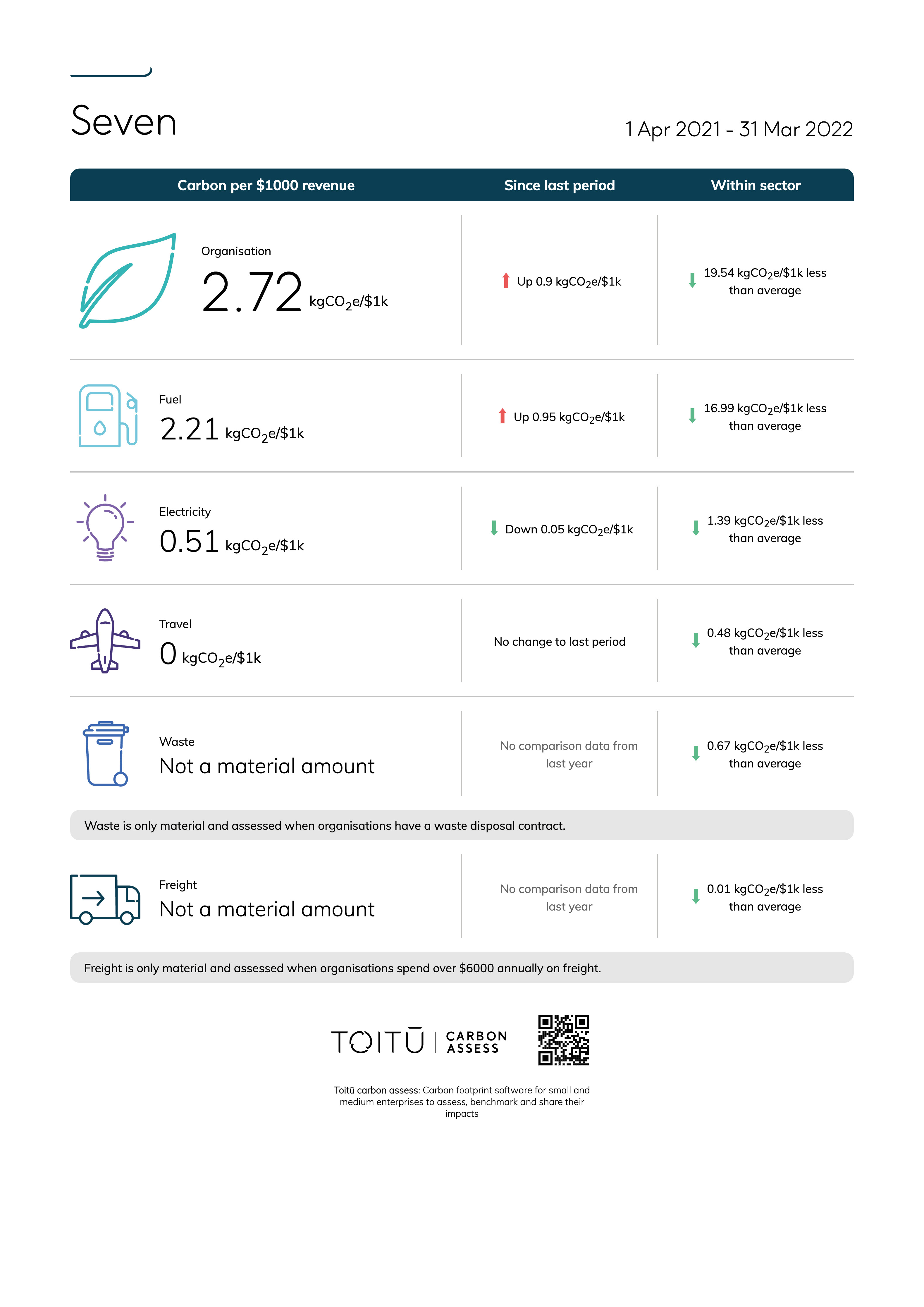 COMMUNITY SERVICE
The purpose of the Seven community service policy is to support activities and initiatives that enhance and serve communities in which we live and work and the issues that impact quality of life. The intention is to participate in giving back and supporting the community and to allow the employees of Seven to share in that effort. At the same time, Seven recognizes that participating in these sorts of activities enriches the lives of our employees. Community is not defined as just local community but may encompass the global community.
Employees can donate up to 24 hours (three days) per calendar year toward a recognised charitable organisation, in accordance with Seven's giving and volunteering guidelines.
PRO BONO AND VOLUNTEER HOURS
Over the past 12 months Seven has provided over 1,300 hours of volunteer hours for The Hearing House, Eisdell Moore Centre, Quiet Sky Waitematā, The EB Firth Charitable Trust and the New Zealand Designers Institute.
We've also provided pro bono work for Eisdell Moore Centre, Quiet Sky Waitematā and the The Designers Institute of New Zealand.